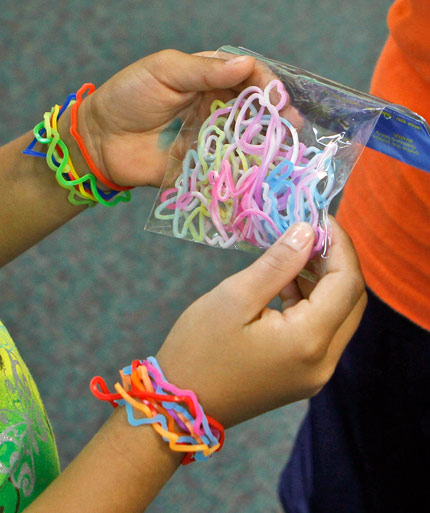 Silly Bandz are new! But what are they?
Silly Bandz come from America. You wear them on your arm, like bracelets.
There are different colours and different types of Silly Bandz: There are superheroes, with Spider Man, Wolverine and Iron Man. There are Halloween bands, with ghosts, witches and bats. You can also buy Justin Bieber bands!
Children and teenagers love them. "Silly Bandz are great to collect, or swap with your friends," says Vicki, 13, from Toledo, Ohio. And famous people wear them too. Mary-Kate Olsen and the model, Agyness Deyn have Silly Bandz.
Why are they popular? "They're fun and they're cheap," says Jo Sawkins, from British magazine, Sugar. But some teachers don't like them: "My students play with the bands and don't listen in class!" says one teacher.
What do you think about Silly Bandz? Do you like them?
Have you got Silly Bandz?
Have your friends got Silly Bandz?
What do you collect?